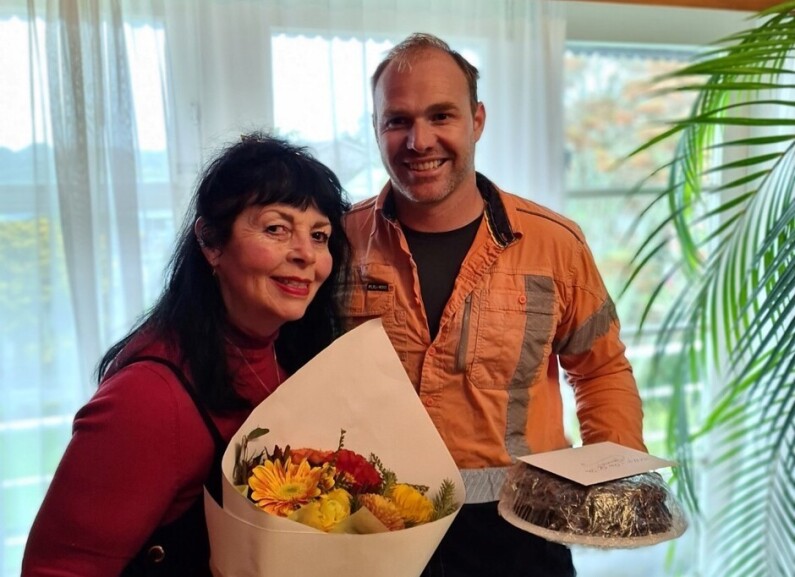 Through care, connection, and a fair amount of cake, Julie Johns is keeping alive a relationship that was born 15 years ago but has roots stretching back almost two centuries.
In 2008, Julie became the 'godmother' of Port Taranaki vessel Rawinia – officially naming and christening the new pilot launch, which was named after Julie's great-great-great grandmother Wakaiwa Rawinia Lavinia.
Rawinia was the daughter of Ngāti Te Whiti chief Eruera Te Puke ki Mahurangi and Kurumai Te Ra, and the wife of European trader Richard 'Dicky' Barrett, who became a key figure in the settlement of New Plymouth.
"I thought it was a real honour to be asked," says Julie.
"The original Rawinia [also a pilot launch] had been decommissioned, and the port wanted to call the new launch Rawinia, so they approached the hapū, and because I'm a descendant and very involved in the Ngāti Te Whiti hapū, they asked if it would be OK with me and my whānau."
The role of godmother is one she cherishes and considers a great responsibility.
"I remember one of the kaumātua said to me at the time that I needed to keep the relationship going, so that even if the crew changed over time, the new members would know why the vessel was named Rawinia, who it was named after, and a bit of the history, so that it meant something to them."
Julie has more than followed through.
Each year, on Rawinia's anniversary, she delivers a cake to the crew, and also provides chocolate at Christmas and Easter.
"I've been out on Rawinia a few times, and I try and go down there three times a year. It helps keep the relationship going, and I feel it keeps the history alive. The port and the Rawinia crew have involved me a lot over the years – they've been very hospitable."
This year was a bit different, though. Recovering from an injury, Julie wasn't able to get down to Port Taranaki to celebrate Rawinia's 15th birthday, so the party was taken to her.
Launch crew members Brady Cameron, Andrea Chadfield, and Aleisha Pelham visited Julie, and presented her with flowers as thanks for her continued generosity.
Julie, of course, provided the cake!
Many thanks to Julie for her continued watch over Rawinia and her crew. May the relationship continue for many more years.
Photo: Julie Johns and Port Taranaki marine operator Brady Cameron.
Back to news