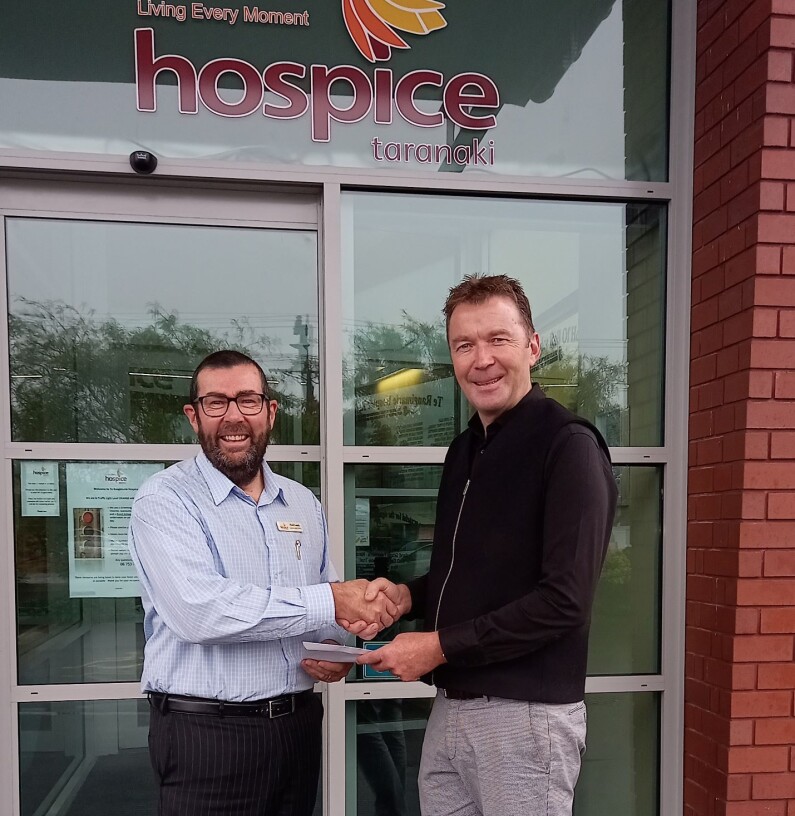 While their name won't be on the trophy, Hospice Taranaki were the real winners of Port Taranaki's recent Harry Blyde golf tournament.
The annual event, held at Kaitake Golf Club in late April, raised $3000 for the registered charity, which provides specialist palliative care services to the region.
Port Taranaki site management co-ordinator, and long-time tournament organiser, Jeff Clement says it was a great success, with 32 three-person teams, from companies that have an affiliation with the port, taking part in the 18-hole ambrose event.
"It was a fantastic day. The conditions were a bit tough with the wind getting up, but there was some good golf played and everyone enjoyed the food, refreshments and camaraderie.
"Ultimately, though, the key was raising money for Hospice Taranaki and we were thrilled with the amount we were able to pass on to them," Jeff says.
"The teams' entry fees, minus costs, goes towards our chosen charity, so we really rely on sponsors to help with prizes and costs. Our sponsors were fantastic, and we are really grateful for their support, in particular our long-time major sponsors New Plymouth Underwater and Port Taranaki."
Jeff says Hospice Taranaki was an extremely worthy and popular recipient of the funds raised.
"Personally, I know a few past port employees who have needed hospice, and most people in the port company have had some sort of dealing with the hospice, whether it be family, friends or workmates, so it's nice to support a local charity that does a great job and supports local people."
Hospice Taranaki chief executive Paul Lamb was greatly appreciative of Port Taranaki's support.
"We are very grateful for this donation from Port Taranaki. We thank them for selecting us as a charity to support and recognise both of our organisations have a significant impact upon the communities of our province," Paul says.
"This funding will support continuing our community care services where we provide over 12,000 patient home visits and over 8500 telephone advice contacts across Taranaki each year."
Named after Sir Henry Blyde, who was Port Taranaki chairman from 1953 to 1974, the golf tournament has been held since 1968. Back then, the Harry Blyde Cup was contested by the harbour board workers' golfing fraternity.
"As times have changed and the numbers have thinned out, we have combined it with the importers and exporters tournament and made it into an ambrose event," says Jeff.
As for the 2022 edition, a team consisting of the organiser himself, Grant Hildred of Titan Cranes, and Port Taranaki electrician Wayne Kennedy held the cup aloft at the 19th hole.
"Yeah," Jeff squirms about his win. "It was a bit hard to explain when I was standing up doing the prizegiving!"
Back to news