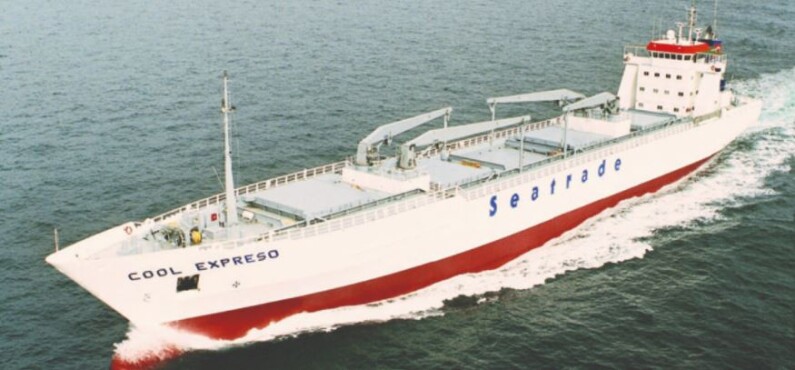 Port Taranaki is playing a key role in helping ease the congested international supply chain for three of New Zealand's major exporters with the arrival of new visitor Cool Expreso at port today.
The reefer, or refrigerated cargo vessel, is at Port Taranaki to load frozen beef for ANZCO Foods, AFFCO New Zealand, and Silver Fern Farms. The meat is bound for the United States' West Coast and is the first of up to six consignments planned from Port Taranaki this year.
Approximately 800 metric tonnes of ANZCO's processed beef on 500 pallets will be loaded at Port Taranaki, with this increasing to 1000-1500 tonnes in future visits. AFFCO New Zealand will load 286 pallets and Silver Fern Farms 242.
"An unprecedented 20% increase in the volume of goods moving internationally during the COVID-19 pandemic, coupled with labour shortages and delays due to COVID-19 restrictions, has thrown global shipping schedules into chaos," ANZCO Foods head of logistics Brent Falvey said.
"This has caused congestion at ports and resulted in an international shortage of containers, which has been exacerbated by a 40% drop in new container production and soaring shipping costs."
In response, in the past 12 months AFFCO New Zealand has successfully made two chartered reefer vessel shipments to the United States. ANZCO Foods and Silver Fern Farms have now come onboard, and Port Taranaki has been included in the multiport charter.
Using conventional shipping reduces the need to secure sought after refrigerated containers, space on container vessels, and congested container shipping berths at the destination, where at some ports there is up to a month's wait for access.
"Another advantage is that when the vessel gets to the USA there are other options for berthing. We'll be able to moor and unload the meat into wharfside coolstores for distribution and within a week turnaround and come back to New Zealand and Taranaki for another load," Mr Falvey said.
"We have a strong presence in Taranaki with sites at Eltham and Waitara, and I've had previous experience working through the Taranaki port and the service has always been excellent, so we thought we'd come back to Port Taranaki."
Port Taranaki head of commercial Ross Dingle said the port was delighted to be able to help the companies ensure their product reached the international market quickly and efficiently.
"At Port Taranaki we look to work with customers to ensure trade is made as easy as possible, so we're thrilled we can help with this workaround to the congested international shipping situation and container shortage," he said.
"Not since the reefer Washington sailed in December 2005, has a conventional meat loading out of Port Taranaki taken place. Taranaki is the agricultural heartland of New Zealand, so it's fantastic that Taranaki-produced beef is again moving across Port Taranaki's wharves bound for the overseas market," Mr Dingle said.
"We're looking forward to continuing and building on this association with ANZCO Foods, AFFCO New Zealand, and Silver Fern Farms and providing facilities and services that enable them to do business economically and ensure timely supply to their customers."
AFFCO New Zealand group sales and marketing manager Mark de Lautour said it was great to be adding Port Taranaki to the charter schedule.
"With ANZCO Foods and Silver Fern Farms working collaboratively with us, it made sense to add New Plymouth to the port calls. There is always risk when it comes to chartering a vessel, so it is really pleasing to have two other meat companies come onboard to ensure this programme continues," he said.
"We are being bold and decisive to ensure product reaches our customers, and that our farmer suppliers capture the best value possible for their livestock."
Cool Expreso comes to Port Taranaki having loaded at Lyttelton Port and will move on to Port of Tauranga for further product before heading to the USA.
Back to news