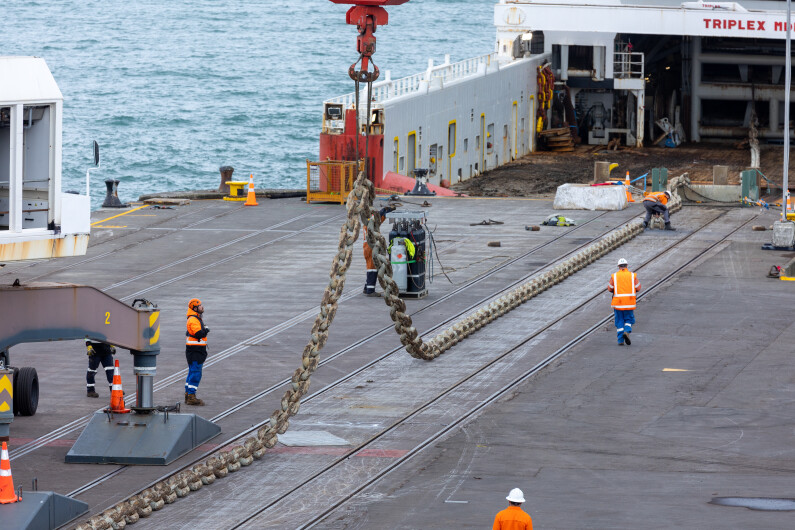 Looking like a serpent slipping out of the sea, the first length of anchor chain that kept the FPSO Umuroa moored over the Tui oil field was brought ashore and stretched out along Blyde Wharf.
About 3.5km of anchor chain and wire was offloaded at Port Taranaki – the first of a total of 9km of chain and nine anchors to be brought to the port as part of the first phase of the Tui field decommissioning.
Port Taranaki is among a number of parties supporting the three-phase campaign, led by the Ministry of Business, Innovation and Employment. The project began with the demobilisation and disconnection of the Umuroa, a floating production, storage and offloading (FPSO) vessel, which had operated at the field for 14 years.
The offshore vessel Siem Amethyst brought the anchor chain and wire ashore, where it was cut into lengths, bundled together, and moved to the former power station site, where it is stored before being removed and recycled.
"We have worked closely and collaboratively with the various parties involved to facilitate a good and safe outcome," says Port Taranaki head of commercial Ross Dingle.
"In particular, the skill and expertise of the Port Taranaki crane operators impressed throughout the work."
Phases two and three of the project will involve the removal of the Tui field subsea assets, such as flow lines, umbilicals, and steel mid-water arches, and then the plugging and abandoning of five production wells and three exploration wells.
Back to news