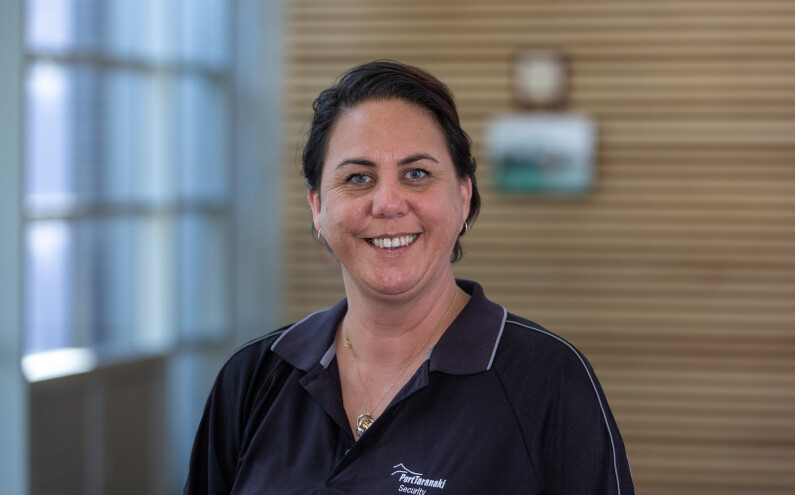 Erana Hoskin is attacking her new role at Port Taranaki the same way she's tackling a life-changing health condition – with an open mind and a willingness to learn.
Erana is on secondment as the port's communications and security supervisor, leading the 11-strong team that monitors entry to the port, maintains security of the entire port area, and communicates with vessels coming and going in the harbour.
A mum to sports mad 13-year-old Piripi, Erana is also a double organ transplant recipient. A decade ago she received a kidney and pancreas after type one diabetes and pregnancy-induced kidney failure resulted in a few years of dialysis treatment.
Earlier this year, her pancreas started to fail, causing type two diabetes. But Erana, who has been at Port Taranaki for eight years, having worked her way up from being a relief worker on the gatehouse, is philosophical about her latest diagnosis.
"I was a type one diabetic before becoming sick and needing a transplant, so it's about adapting and learning a new way of living again.
"My new role is also a huge step for me and I'm learning a lot about myself – my strengths and weaknesses."
What does your role involve?
I oversee the day-to-day operations of the team, making sure they have what they need to do their job and making sure rosters are covered for our day and night shifts. I've also been assisting the Port Facility Security Officer (PFSO) in rewriting and developing our policy and procedure documentation, and I'm studying to be a PFSO.
What do you like about the role?
It's fun and exciting. There's always something new and I'm always learning. Everyone who works in the comms and security team has their own skillset and I'm enjoying learning different techniques and ways to make our job a little bit easier.
What are the challenges?
Every day is different and things can change quickly. I can plan my day thinking that it's going to go one way, but then something will pop up that needs attention, which is challenging but exciting. Also, I've never done anything like this before – being responsible for a team of people who rely on me – so it's a new experience.
Back to news