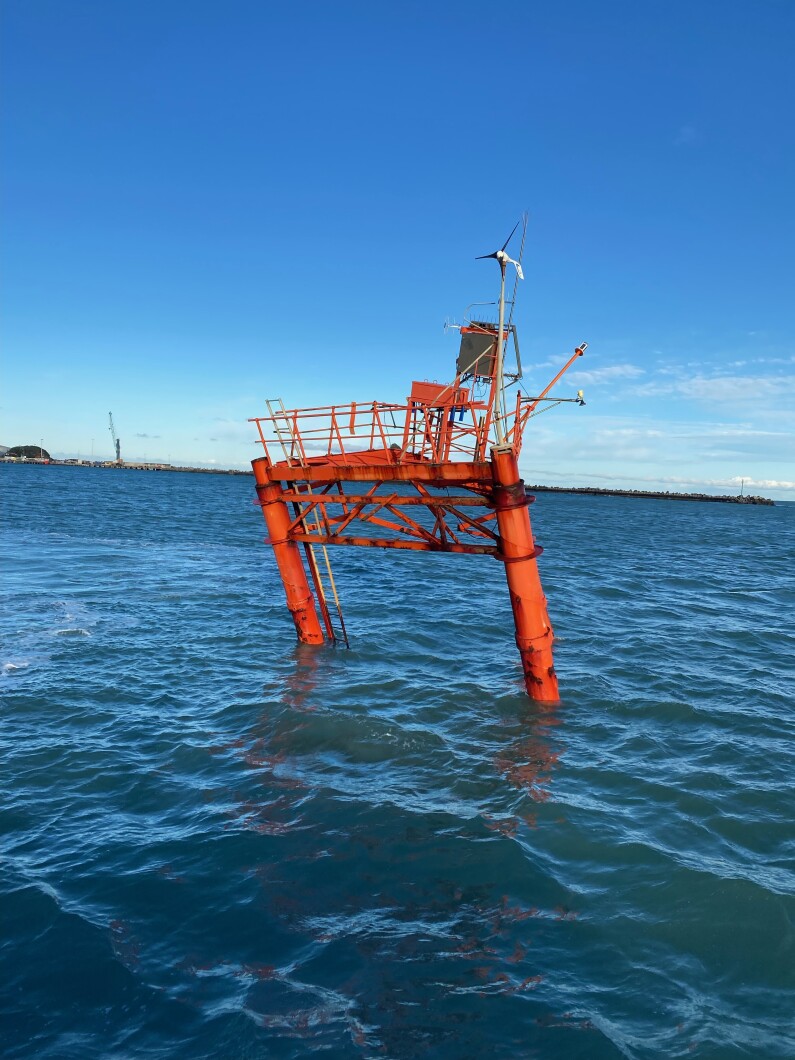 It is perhaps ironic that the tides, waves and wind that the Port Taranaki wave tower had been put in place to monitor, were the very things that brought about its demise.
In early February, the remnants of ex-tropical Cyclone Dovi hit the country hard, causing damage throughout the region, including at Port Taranaki.
The energy generated by the high tide, wind and large seas, pushed askew the wave tower that had stood high out of the water off the Lee Breakwater for almost 40 years, and inundated the Lee Breakwater carpark and surrounding areas, causing damage to the carpark surface and a jetty.
"The power of the sea that day was immense," says Port Taranaki mechanical supervisor Sam Houghton. "The fact that the wave tower sat out in all weather and other storms for all those years, illustrates just how much energy there was from Cyclone Dovi.
"The waves were surging right over the top of the wave tower – something no one here had ever seen before. Two of the piles were moved in the seabed and then the superstructure started to collapse."
The steel triangular structure had been a prominent feature on the New Plymouth horizon since it was built in 1983. Rising 15.5 metres above the seabed and sitting about 200m north-east of the breakwater, the structure hosted wave and tidal gauges and other meteorological equipment that provided important information for harbour users.
However, the damage caused by the cyclone forced its almost immediate removal for safety and navigational reasons.
"After the storm, our engineers went out and assessed the tower and quickly deemed it was not repairable and needed to be removed," says Port Taranaki chief executive Simon Craddock.
An underwater specialist company, which included a team of divers, was contracted and, with Port Taranaki input and support, a plan was put in place to remove the structure quickly and safely.
The top of the tower was cut into sections, lifted onto a support vessel and taken wharfside. The piles that held the structure to the sea floor were then cut, and floated wharfside, where they were lifted onto the wharf.
Sam says the removal project went smoothly, with the piles cut half a metre below the sea bed so as not to pose a navigational hazard.
"We were able to recover all the telemetry equipment, which was a great result."
There are no plans for the tower to be rebuilt.
"We have alternative tide, wave and wind monitoring equipment in place around the port and harbour that will continue to keep customers and harbour users informed," says Simon.
The damaged section of the Lee Breakwater carpark has been repaired and resurfaced, and the area is now fully open to the public.
Back to news