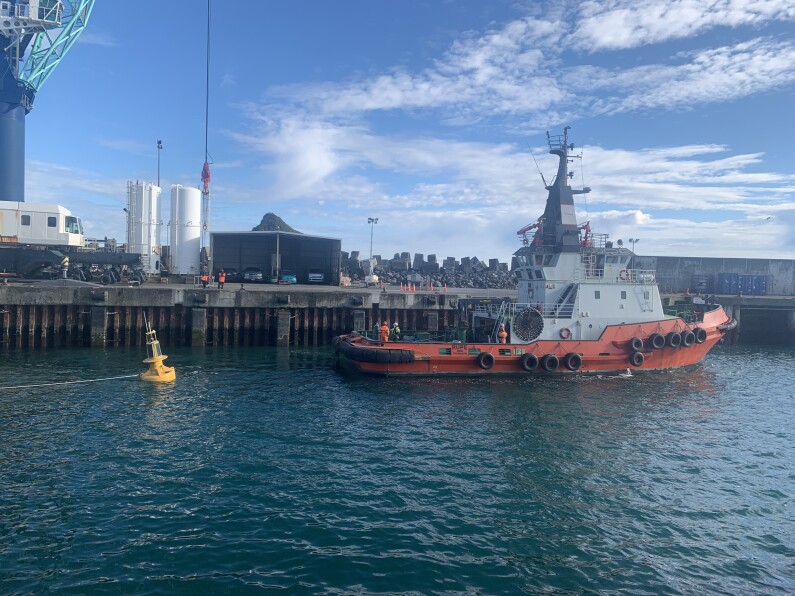 Working on New Zealand's unforgiving west coast, changing weather and sea conditions can have a big impact on Port Taranaki operations. Therefore, having accurate and up-to-date information is vital for decision-making.
In spring, Port Taranaki replaced its meteorological and oceanographic buoy, called the Bares Buoy, with an AXYS WatchKeeper buoy. The buoy uses state-of-the-art sensors and telemetry transmitters to provide real-time weather data, including sea state, swell height and direction, water temperature, and current direction and strength. The bright yellow buoy also has a solar powered aid-to-navigation light, which is visible to vessels from five nautical miles.
"Through new technologies, considerable advances have been made in gathering real-time data and we wanted to ensure we had the latest technology available to provide high accuracy in forecasting the weather and sea state," says Port Taranaki senior marine pilot Adam Eager.
Adam says deploying the buoy was a challenging task, with Port Taranaki staff from across the marine team, engineering and wharf services involved in the project. The buoy was lifted into the water, lashed and then towed half a mile north of the Main Breakwater to a water depth of 30 metres.
"It was a non-routine operation – the marine team had never deployed a buoy of this size, weight and complexity, with most of the structure containing fragile sensors and telemetry transmitters – so careful planning and execution was needed," says Adam.
"The deployment also had to be carried out in a favourable weather window and during COVID-19 times, so this made it more challenging. Everyone involved did a fantastic job and the buoy was deployed safely and successfully.
"The information it provides is going to be incredibly useful for us, our customers and other harbour users."
Back to news