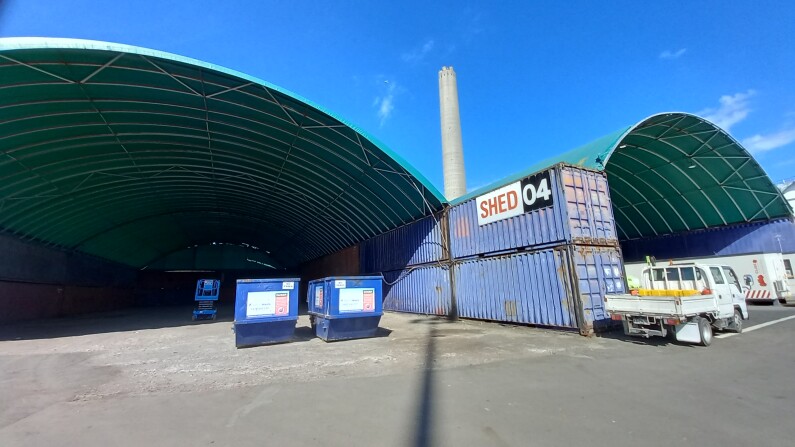 Port Taranaki's 'green arches' have come down, rounding out a period of extensive property work that has helped shape the port into a more flexible and adaptable facility for customers.
Following on from the removal of older buildings on the port's Hutchen Place, the former coolstore on Blyde Wharf and, most recently, the large Moturoa Store and Gallery, the covered storage areas known as Sheds 4 and 5 have now been dismantled and removed.
The dual 10m high storage sheds each consisted of a roof of canvas on an arched steel frame bolted to double-high rows of weighted shipping containers.
Despite their temporary appearance, the sheds were built-for-purpose and had been in place for almost a decade.
"They were designed and built for a short life expectation of about 10 years, and we were arriving at that 10 years," says Port Taranaki engineering manager Ludo Galliegue. "They were now beyond economical repair so it was timely to remove them."
The sheds were most recently used for storage of Port Taranaki equipment and machinery, and a base for the wharf services department, which will remain on-site for the timebeing, working from portacoms.
The area is approximately 1000m² and now gives an opportunity to repurpose for trade – enabling flexibility to meet trade demand changes, both nationally and globally.
"While there is nothing confirmed at this point, it gives us further options for meeting customers' needs, such as short or long term storage," says Ludo.
Project manager Owen McBride says the removal project went to plan.
"While the canvas and some of the 17 containers couldn't be saved, some containers have been refurbished for use here at the port, and others have been repurposed externally," he says.
Back to news