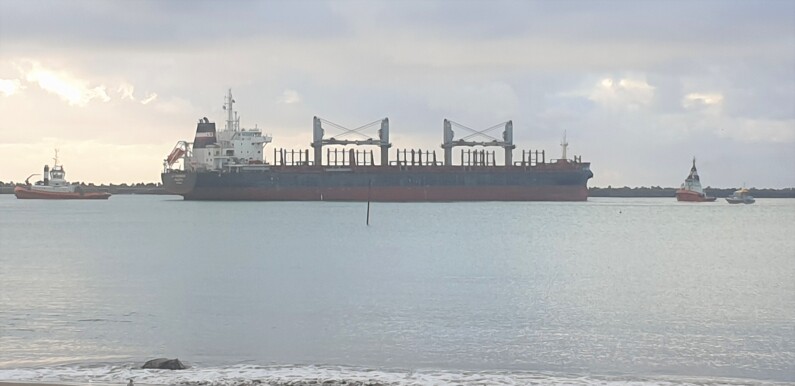 A vessel that suffered a mechanical fault while at sea, has arrived at Port Taranaki under tow and will remain in port while repairs are carried out.
Port Taranaki head of operations Ashley McDonald said the port had quickly made a berth available for bulk carrier La Richardais, and the vessel could be in port for a couple of weeks while repairs were completed.
La Richardais, which was headed for Port Taranaki to load logs, was 64 nautical miles north of Port Taranaki, off Raglan, on Sunday evening when it asked for assistance. The offshore support vessel Skandi Emerald responded and towed the vessel to port.
"We initially began preparing our tug Tuakana and crew to sail, however after discussing the situation with the Skandi Emerald it was established they were better placed to respond as they had a clear deck, had more power for the tow, and were already configured to undertake a tow," Captain McDonald said.
Captain McDonald said Port Taranaki was happy to provide a berth for the vessel.
"Being the only deep water port on the west coast, we're always ready and prepared to help out if needed, and have the berth capability required.
"As a region, we also have great engineering capability, so there's plenty of trades that are available to do the repair work."
About 2nm off Port Taranaki, the tow of La Richardais was transferred from the Skandi Emerald to Port Taranaki's three tugs, which then brought the vessel into port.
An environmental management plan was to be activated and booms placed around the vessel at berth as a precaution.
Back to news