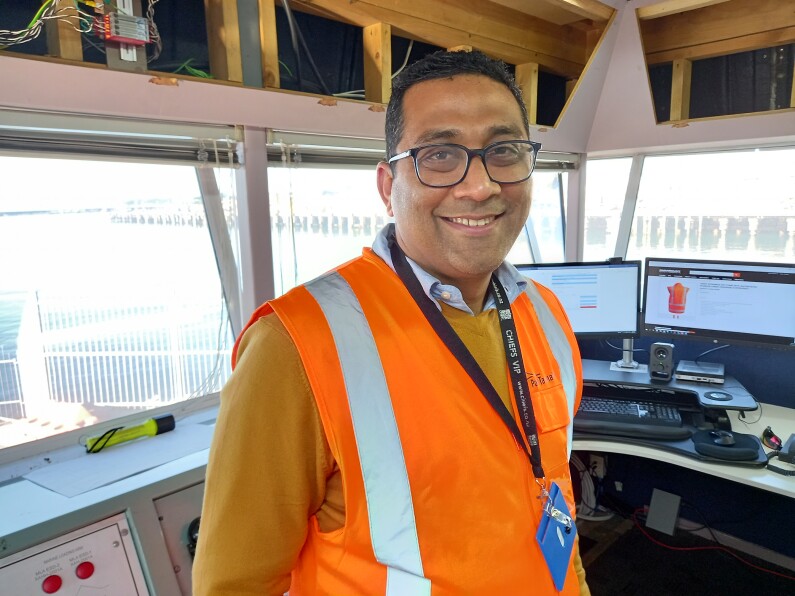 These days he might have his feet firmly planted on terra firma, but Amit Chitnis finds plenty of parallels between his new role at Port Taranaki and his old life at sea.
"It's like running a ship," says the former super tanker captain who, as bulk liquids manager, is now 'captain' of the team that runs the operations of the Newton King Tanker Terminal – the port's energy wharf.
"We operate the terminal seamlessly as a team, and we run more or less like a ship."
After more than 20 years working at sea, in 2018 Amit gave up sailing and moved to New Zealand. From his Christchurch base he flew in and out of Qatar managing an offshore oil and gas terminal, before COVID-19 and the desire to spend more time with his family saw him move to New Plymouth to take up the newly created role.
"I don't miss being on the sea – I'm close to it anyway. And this is the centre of the energy industry in New Zealand, so this is the right place to be."
What does your role involve?
"I look at keeping NKTT up with OCIMF (Oil Companies International Marine Forum) standards and I manage the daily interaction and communication with the cargo owners who use the NKTT – understanding their requirements and facilitating good customer service.
"It involves communicating and co-ordinating a ship's visit and how much product will be transferred, and working within shipping schedules and around the likes of terminal maintenance and the weather. Safety always comes first in all our decision-making.
"We are also upgrading the terminal and digitalising most of the systems. With my past experience, I am training our team of very experienced duty superintendents in the new systems, giving input about how we can achieve maximum efficiencies, and improving our overall procedures and processes to keep up with the new international standards."
What do you like about the role?
"It's exciting – no two days are the same, particularly when working in a dynamic environment."
What are the challenges?
"You have to adapt quickly and think on your feet. There are a lot of factors involved – commercial and environmental – which impact multiple parties. So the challenge is to manage and integrate these into the daily activities."
Back to news